On June 28, 2006, in the blink of an eye, Dr. Kelly Barbour-Conerty became a grieving parent when her sweet 16-year old daughter, Lexi, was killed in a car crash only 1 ½ miles from home on her way to a youth-group meeting at church.
Since that day, Kelly has struggled with a new normal-one that doesn't include Lexi. She knows firsthand the darkness that comes after the death of a child but learned how to survive, cope and heal with the love and support of a very special group of people who empathize in a way that no one else can and have been there for her at every stage of the grieving process – other members of the "grieving parents club."
Not long after Lexi's sudden death, Kelly began trying to save lives and keep other parents out of the club by giving speeches at high schools and elsewhere on the importance of teenage safe driving, and she's been doing it for over ten years now, but she didn't stop there. She has graciously reached out to other members of the club on a personal, one-on-one basis – especially new members or others who are in a particularly dark place – to share the wisdom of her experience and bring a ray of light, hope, and joy.
At some point, Kelly realized that she should turn the wisdom that she'd gained from experience and other grieving parents into a book that could reach other a much larger number of grieving parents for generations.
Kelly wanted to turn her ideas into a book but faced an intractable problem. As a devoted mom (of her younger daughter, Stasia) and professor of business at a local college who was busy pursuing a doctorate in education, writing a dissertation, running marathons, meeting with grieving parents, and speaking around the country on various topics – not to mention grappling with her own grief (which lasts a lifetime, in one form or another) – she didn't think she had the time to write a book. Years passed, and she began to wonder if she'd ever do it.
One day, she approached Joe Bovino, CEO of The Book Counselor, and learned about a new way to get that book out of her head and into the hands of grieving parents who could benefit from the information. She could skip the traditional, time-consuming writing and publishing process and speak her book into existence in a matter of hours.
She knew it was what she'd been looking for, and the time had come to act.
"I was running my first marathon, traveling, and I'm a mom, and speaking around the country, and … I remember telling [Joe Bovino] in the early days that, when things slow down a little bit, I'll get it written. But I realized – I had this epiphany – that there's never gonna be a less busy time in my life. And, so, just do it now."
The Book Counselor process helped Kelly break a long cycle of procrastination and become a published author by speaking her book rather than writing it.
Working closely with Joe and his publishing team, Kelly realized in Step 1 of the Book Counselor process that, as much as she yearned to share Lexi's story and talk about their time together, she wasn't interested in merely writing a memoir. She wanted to write a non-fiction book to help other grieving parents, especially the newest ones, who needed trustworthy, empathetic guidance in their darkest hours.
"I wanted the hero of my story to be new grieving parents who don't know what to do or who to trust. I'm just the guide who's helping them to navigate their journey because I've lived it and know the road ahead, as have other long-term members of the club."
Kelly's use of the word "club" during step one of process to describe the special bond between grieving parents inspired and eventually lead to the title of her book, The Grieving Parents Club: How to Survive, Cope, and Heal After the Death of a Child.
In Step 2 of The Book Counselor's process, Kelly and Joe discussed the main story (or central thesis) of the book, the supporting stories (or sub-plots), and how Kelly's personal stories and life experience played into each one. Then they arranged those stories into a concise outline that essentially walked her readers (or heroes-in-the-making) from where they are when they start reading to where they want to be (proactively dealing with their grief in a healthy, rational way).
"The outline process was good because it was taking this broad idea and really funneling it down and keeping the focus on there, and part of the focus was the step-by-step approach and then something that I'll never forget as long as I live – [Joe Bovino] telling me, "Write it down. If it's not in the outline, it didn't happen." That was good for me because we were able to bring some order to the book so that everything logically flowed. Doing it this way makes for a book that flows very well."
After Joe added leading questions throughout the outline to help Kelly remember what she wanted to say in the book, it was time for Step 3 of The Book Counselor's process – a series of interview sessions with leading questions that Kelly could answer in a relaxed, conversational way.
"The leading questions were good because they kept me from going off track. I have always had the book in my head, but [The Book Counselor] process gave me the ability to bring it out and, instead of on a keyboard or typewriter, just speaking it. It was much easier."
When the interviews were complete and Kelly's answers were recorded and transcribed, it was time for Step 4 of The Book Counselor process – editing and proofreading. Joe sent the transcripts to one of his editors with strict instructions to turn them into book prose without losing Kelly's unique voice. Meanwhile, Kelly went back to her life as usual.
Once Kelly reviewed and approved the final manuscript, Joe and his team executed Steps 5 and 6 of The Book Counselor process. More specifically, the Book Counselor published and distributed the eBook version of Kelly's book on Amazon Kindle and the paperback version on IngramSpark, via its print-on-demand service. Then Joe personally executed a bestseller launch campaign for the book on November 29, 2016 – Lexi's 27th birthday – a special day that Kelly and Joe had in mind from day one as the ideal launch date.
The Grieving Parents Club: How to Survive, Cope and Heal After the Death of a Child became an Amazon #1 bestseller in two categories, and Kelly became a published author – a #1 bestselling published author – to add to her list of accomplishments.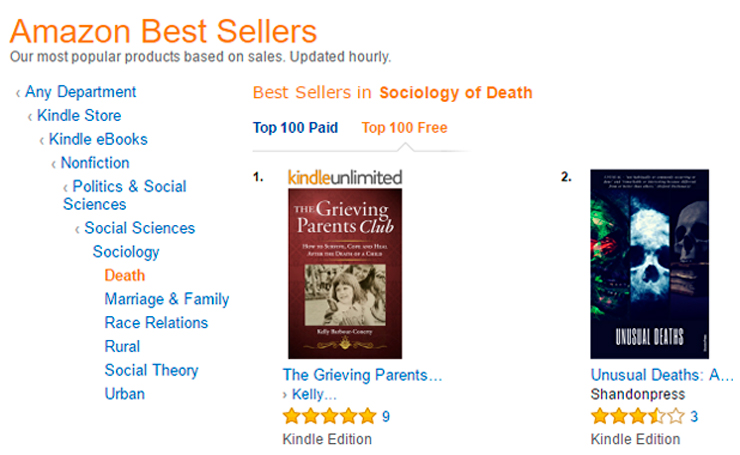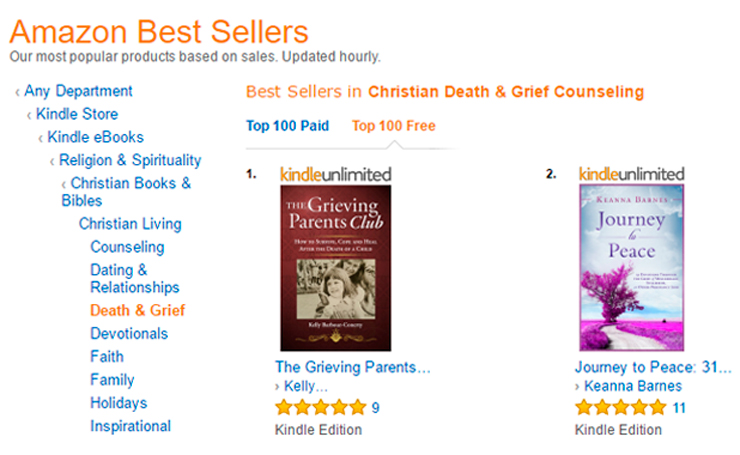 Kelly fulfilled her dream of writing and publishing a great book for and about grieving parents that relied heavily on stories about her daughter Lexi, which she wanted to share in a touching and personal but highly professional way.
Since then, after a hiatus to successfully complete her dissertation and become a Ph.D. of education leadership and management, Kelly has taken a series of steps to bring the message in her book to the attention of more people who can benefit from it through, among other things, a private Facebook Group for grieving parents, speaking engagements, an upcoming press release, and establishment of a foundation called, naturally, The Grieving Parents Club.
"Anybody can just throw a book together, but if you have a really important message that you want to get across to people, the process that [The Book Counselor has] developed … It is just, I can attest to it, it was amazing. I just wish I'd known about it when I started my dissertation."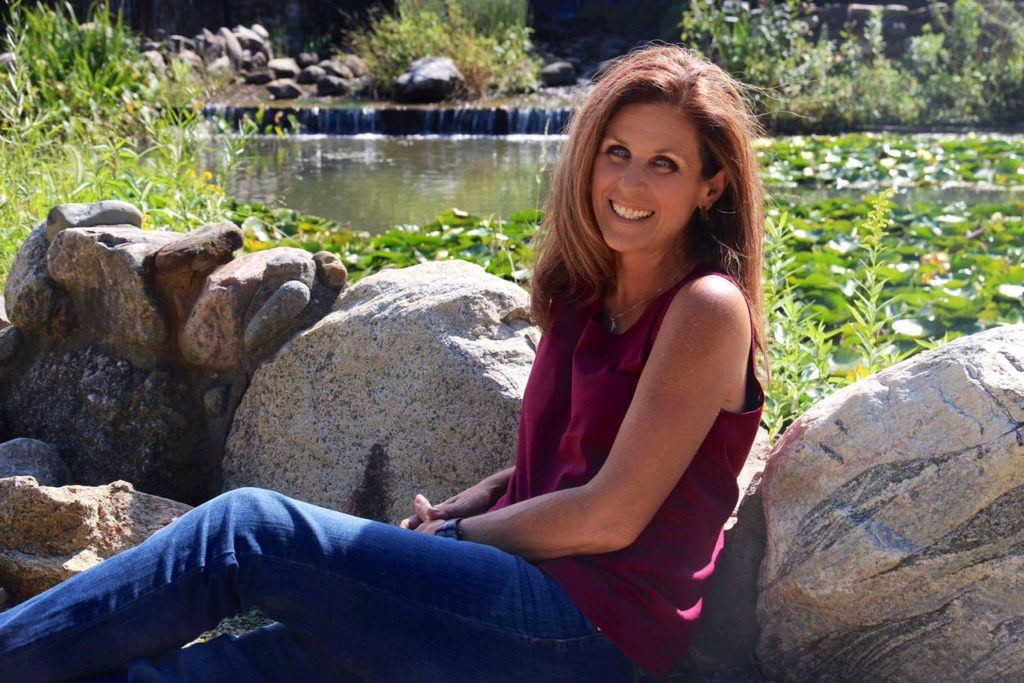 In loving memory of, Lexi